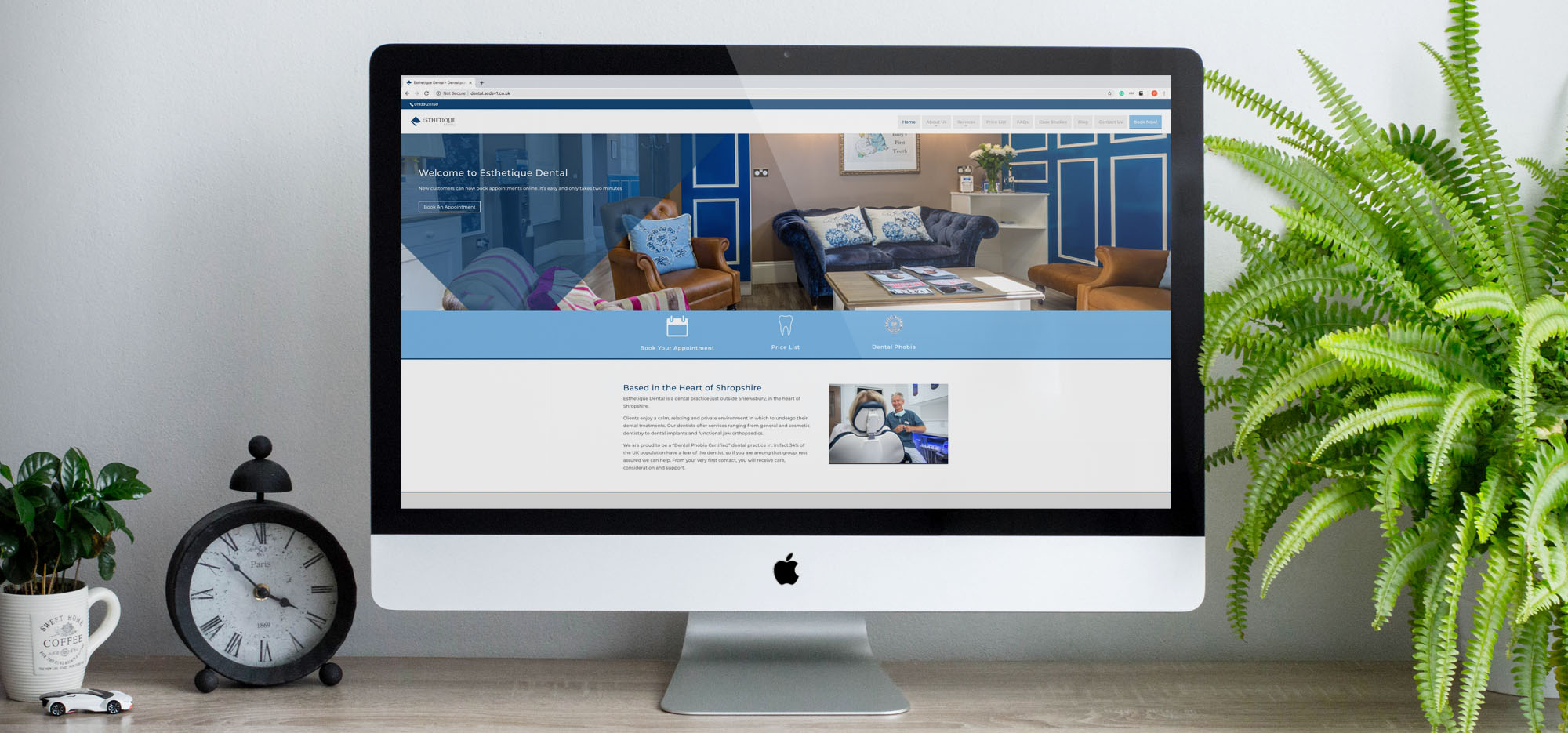 Welcome to the New Esthetique Dental Website
At Esthetique Dental in Shrewsbury, our dentistry equipment has to be cutting edge. It's important that our technology is top-notch and ahead of the game for our clients. That's why, after spending many years with our previous website, we decided it was time to upgrade that too.
So… welcome to the new and improved Esthetique Dental website!
We are delighted with the layout and content and we trust you'll enjoy your browsing experience.
If you have a look around the site, you can get to know our Shrewsbury dentists a little better, as well as read some of our testimonials and case studies. If you haven't visited Esthetique Dental before, you'll also see what our facilities and faces look like! There's lots of information on the wide range of dentistry services we offer. But, in the meantime, here's a handy taster summary:
CEREC
If you or anyone you know is needing a crown, you can walk out of our practice in just one visit.
Getting traditional crowns can be quite a daunting and drawn-out process, which requires multiple visits. But, at Esthetique Dental, we use top of the range technology called CEREC. State-of-the-art machines that enable our dentists to provide perfect-fitting, colour-matched crowns in one day.
Cosmetic Orthodontics
Are you after an improved smile to boost your confidence? We can help improve the way your teeth fit together giving you better function and improved long-term wellbeing.
Dental Hygiene
At Esthetique Dental, a priority is listening to your needs and giving you the exact results you're after. That's why our expert hygienists will devise a personal treatment plan to guide you on how we can work together to improve and maintain your oral health. From routine scaling and polishing to the treatment of gum disease, we've got you covered.
Dental Implants
If you've suffered from tooth loss, then you know how eating may be less comfortable and how speech and appearance may be affected. Dental implants can solve your problems by acting as an artificial, more permanent replacement for the root of your natural tooth.
Tooth Whitening
Everyone's teeth will become stained and discoloured over time. We can carry out a full examination to see how suitable you are for tooth whitening and create custom-made whitening trays for you. That way you can start lightening your teeth from the comfort of your own home!
New patient examinations
Our Shrewsbury dentists love meeting new people and discussing how we can help and addressing any concerns they may have. As a dental phobia certified practice, we are often contacted by nervous patients. Rest assured, you will be looked after.
So, welcome – once again – to our brand new website.
If there are any questions you have about our dentistry services in Shrewsbury, please call 01939 211150 or use the enquiry form on our website!