Get a confident smile quickly with our same day crown service
The process of getting traditional crowns can be quite daunting. It can be a long process that requires multiple appointments and temporary crowns.
Also, traditional crowns can often be a hindrance for those of us who lead busy lives and don't have time to be rushing around to numerous appointments.
This is why we offer a same day crown service at Esthetique Dental. Which means you'll get to walk out of our practice with brand new, high quality crowns after only one visit.
What are CEREC crowns? 
CEREC stands for Chairside Economical Restoration of Esthetic Ceramics. If you're thinking that all sounds a little complicated – don't worry, we'll break it down for you.
As you are probably aware, a crown is essentially a cap for your tooth. It protects your teeth from most cosmetic tooth problems and keeps them looking aesthetically pleasing and uniform.
Traditional crowns require a mould of your teeth impressions to be made, a temporary crown to be fitted and a second appointment a few weeks later to get your crown installed.
This is a huge time commitment for people with busy lives and we understand how much organisation goes into taking time out of your life to make several dental appointments.
However, with a CEREC crown,  you can solve your problem without this arduous process.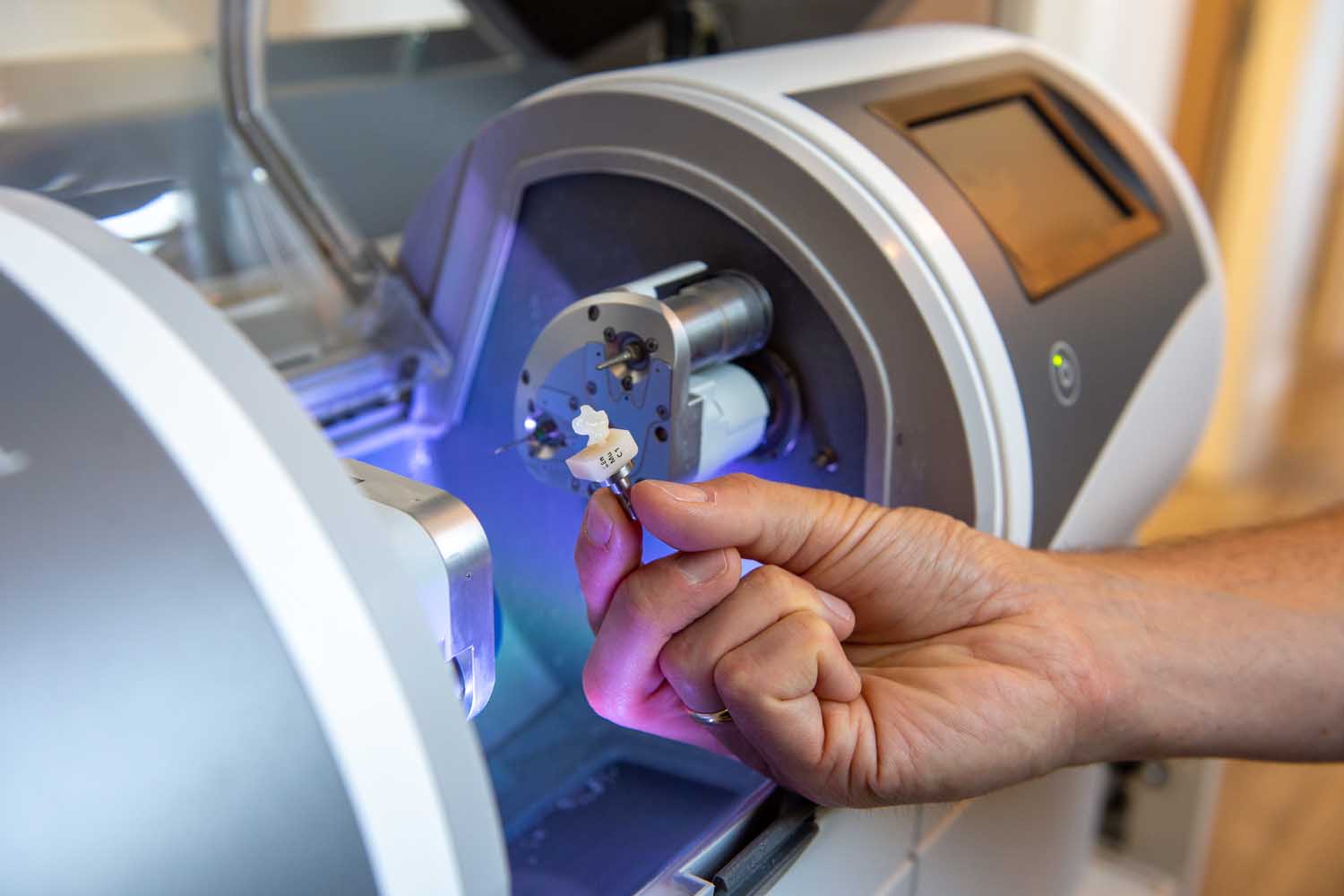 Why get CEREC crowns? 
Instead of a potentially uncomfortable putty teeth impression being made, CEREC machines use highly advanced cameras to create a three-dimensional image of your tooth.
Then the machine carves the image into reality from a ceramic block ensuring a perfect fit and identical colour match. So, in the time it takes you to have a coffee or tea in our waiting room, your new crown will be created on site.
In other words, a process that used to take weeks now only takes a few minutes!
Another benefit of CEREC crowns is that there's simply no need for temporary crowns. The problem with temporary crowns is that they can often be uncomfortable because they aren't crafted perfectly for you. As a result tehy can break.
The last thing you want is to be waiting for your second appointment to come around as you struggle with a broken temporary crown. With a CEREC crown, this potential problem is out of the equation.
Why choose Esthetique Dental?
Here at Esthetique Dental, we always put clients first. We understand how our patients expect to be treated, which is exactly how we would like to be treated ourselves when receiving treatment. When you visit us, you will always receive treatments that are delivered with professionalism and respect.
As we are dental phobia certified, we will make you as comfortable as possible and listen to any concerns you have before your treatment.
So, if you're considering CEREC crowns, why not come and pay us a visit? We are here and ready to help! Please call us on 01939 211150 to arrange or find out more.